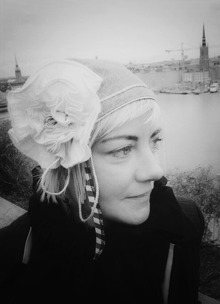 ABOUT ME
An incurable curiosity about the human being is perhaps the main reason why I become
a photographer.
With my camera as an excuse I can take part of people's stories and life. I love to experiment with different cameras and techniques. I believe in challenging myself by trying new expressions to constantly evolve.

My customers are mostly newspapers, magazines and advertecing agencies. In addition to freelancing I work with long-term projects in Sweden and abroad. Alongside this I travel around the world together with my journalist colleague Maria Hagström where we feature articles on assignment for various magazines. I also hold lectures and workshops on iPhonephotography. I am always open for new collaborations, so please feel free to contact me!

CLIENTS
Arbetsliv, Arbetet, Arbetet Global, Arbetsterapeuten, Alkohol & Narkotika, Diakonia, Läkartidningen, MAF, Motdrag, Omvärlden, Opus, Publikt, Re:public, Rädda Barnen, Situation Stockholm, Skolverket, Sveriges Radio, SVT, Syre Global, Tandläkartidningen, Vision.
EDUCATION – PHOTOGRAPHY / FILM / JOURNALISM
2014 Poppius school of Journalism
2014 Basic film course at Kulturama
2009 Course in studio photography organized by
Association of Swedish Professional Photographers
2007 Authorized photographer in digital imaging
(course organized by Association of Swedish Professional Photographers)
2002–2005 Nordens Fotoskola Biskops Arnö - the Nordic School of Photography

AWARDS/GRANTS
2020 Honorable mention in Minimalist Photography Awards
2020 One year working grant from the Swedish Arts Grants Committee
2020 Sony World Photography Awards, Open Creativ, shortlist
2020 SIDA-grant (Publicistklubben)
2019 Travel grant from the Swedish Arts Grants Committee
2018 Travel grant from Swedish Authors' Fund
2018 Travel grant from the Swedish Arts Grants Committee
2016 One year working grant from the Swedish Authors' Fund
2012 Winner of PP Pensions' Photo Contest
2012 One year working grant from the Swedish Authors' Fund
2012 Association of Swedish Professional Photographers:
Kavalla grant
2005 Scanpix Photo Prize nominee for "The Invisible"

SOLO EXHIBITIONS
2020 Mayfly at Black Door Gallery, Örebro
2019 The women on Meri Seif - voices from a bus at Black Door Gallery, Örebro
2016 Hanseman at Neva Books, Rimforsa
2016 Hanseman at Galllery Axel, Stockholm
2013 Fade to Black at Neva Books, Rimforsa
2012 Fade to Black at Gallery KG 52, Stockholm
2012 Fade to Black at Gallery Axel, Stockholm
2012 Fade to Black at Black Door Gallery, Örebro

REPRESENTED
Gallery KG52
Gallery Axel
Swedish Association for Art (SAK)
Örebro kommun
Örebro läns landsting

MEMBERSHIP
Association of Swedish Professional Photographers (SFF)
Scanpix Photo Agency (TT)
Centre for Photography (CFF)